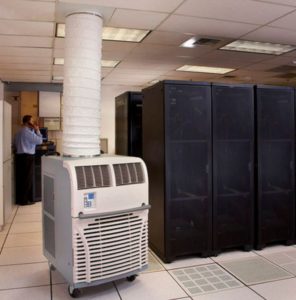 Perfect for server room and data center Cooling
The MovinCool Office Pro 12 portable room air conditioner is specifically designed to provide computer cooling for offices filled with heat-generating electronics. Computers, networks, communications and office equipment will shut down when the temperature rises, crippling daily operations. By bringing spot air-conditioning to just the area or room that needs it, the Office Pro portable AC saves money while protecting your company's investment in equipment. With the technology to become a portable dehumidifier as well, the Office Pro 12 also protects against water damage. Both equipment and employees will benefit from the level of spot cooling that the Office Pro 12 provides.
Self-contained and portable, the Office Pro 12 requires no costly installation—simply roll it in, plug it in and turn it on. This unit may be rented or purchased from a local dealer. To find a rental portable air conditioner or one for sale, use the dealer locater on the website. To learn more about the Office Pro 12, please view the downloads available for this product.
Provides 12,000 BTU/h of cool air… maximum spot cooling to just the room that needs it.
Programmable Digital Controller
Operates on standard 115V power.
No costly installation necessary. Roll it in, plug it in, turn it on.
Provides cooling down to 65°F… the ideal operating temperature for heat sensitive electronics.